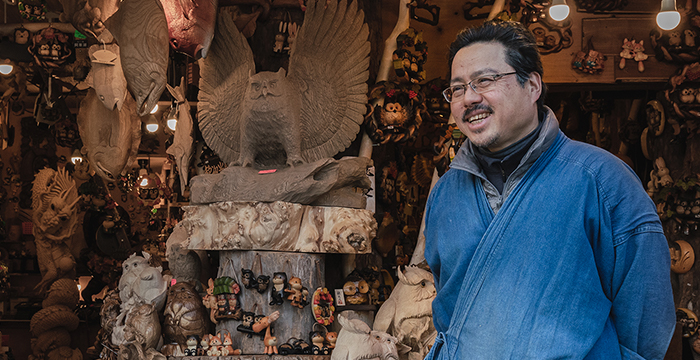 Mr Watanabe is a professional wood carver.
Mr Watanabe encountered Lake Akan while traveling through Hokkaido on motorbike, and took a deep fascination with the area, as if he had been fated to come. He took interest in woodcarving, and in 1986, he moved to Akanko Ainu Kotan. He began woodcarving as a part-time job. He is one of the artists who contributed to the six engravings which stand at the entrance to Akanko Ainu Theater <Ikor>. Since 1994, he has operated Wood Folk Art Mori no Hito, a store in Akanko Onsen which carries engravings and other crafts. In 2016, he opened Nitayunkuru, a new store in Ainu Kotan.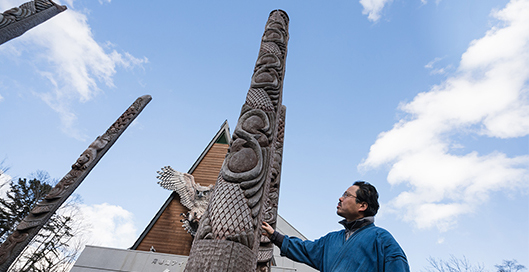 At the entrance of Akanko Ainu Theater <Ikor>, an amazing display captivates visitors with its spectacular presence. The six wooden pillars are engraved to resemble ikupasuy, one of the ritual articles used by Ainu in ceremonies. The engravings feature motifs such as bears and killer whales.
Mr Watanabe has worked on a variety of engraved crafts, from large to small, but even for him, it was a rare opportunity indeed to take on such a monumental task. Created with passion and great attention to detail, each work conveys a sense of warmth at the slightest touch.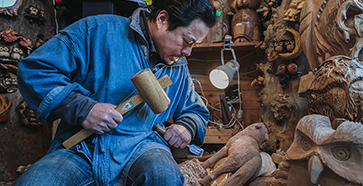 Mr Watanabe recalls that, when he first visited, he was deeply moved by the beauty of Lake Akan's nature and culture. He is particularly fascinated with the aspect of Ainu culture which considers animals, plants, and the like to be kamuy (deities). Most of his works represent animals through realistic wood carving, featuring animals such as the owl, known as Kotan kor Kamuy (protective kamuy of the village), and the wolf, known as Horkew Kamuy (kamuy of hunting).
He has great respect for the master artists who are active in Akanko Ainu Kotan, and has particularly strong admiration for the late Mr Fujito Takeki. He strives to capture the mindset and point of view of Ainu when they observe nature, and continues to create art in hopes of one day approaching the greatness of his predecessors.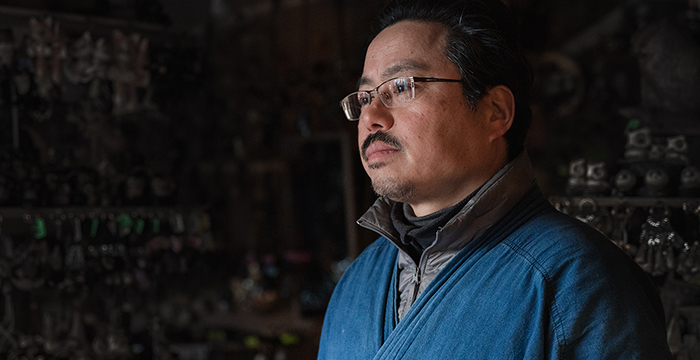 While touring Hokkaido by motorcycle, he visited Lake Akan, where he became interested in woodcarving, and moved to Akanko Ainu Kotan. He now carves artworks which represent Hokkaido's animals, such as owls and wolves, with great attention to realistic detail.

Nitayunkuru
4-7-27, Akanko Onsen, Akan-cho, Kushiro-shi, Hokkaido
Wood Folk Art Mori no Hito
4-3-18 Akanko Onsen, Akan-cho, Kushiro-shi, Hokkaido