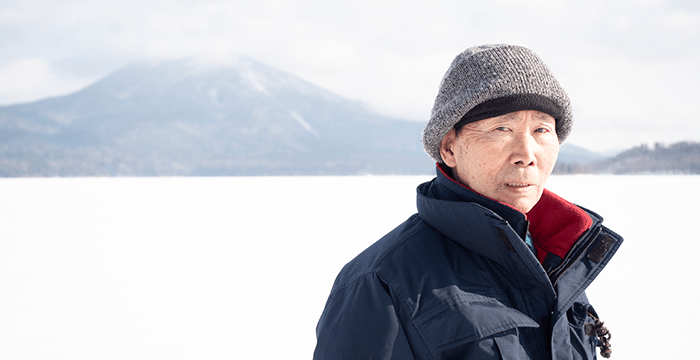 Proprietor of Hikawa Folk Art Shop at Lake Akan Ainu Kotan; wood carver.
Kiyoshi Hikawa moved to Lake Akan Onsen as a child, inheriting knowledge of wood carving, plant collecting and weaving from his Ainu parents. After graduating from junior high school, Hikawa set out to become a professional wood carver, and began his training as an apprentice to Masakichi Shitakawahara. After studying under his master and other mentors for four years, he became an independent practitioner at age 19. True to his roots, Hikawa then established a wood carving and folk art store in Akan, which he has operated ever since.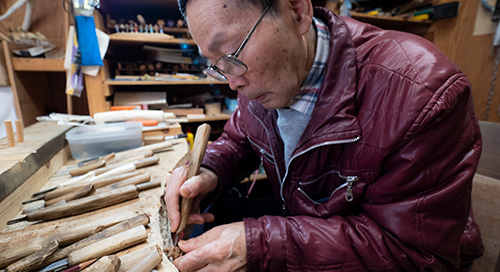 When carving wood, one must think with the hands first, and the head second. It's a delicate process, a subtle negotiation between the senses of the carver's fingertips and the unique characteristics and personality embodied in the wood. It will become stubborn if treated without proper thought and attention. In order to master this process, the carver's body and tools alike must be cared for and maintained on a daily basis.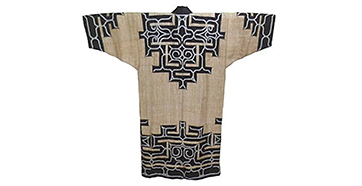 When something captivates his heart, Hikawa feels a visceral response in his body. Some time ago, he stepped into a venue where a curator from overseas had put together an exhibition of Ainu cultural treasures. There, he encountered garments that his Ainu ancestors had woven from wild nettle fibres, long ago. The colour and texture was different from the present-day items they create from tree bark. He could feel his body stirring as he wondered, "How on earth did they make this?"
From there, Hikawa began spinning wild nettles into enough thread to weave a single garment, a solo project that would take seven years to complete. He used this handspun thread in collaboration with other artisans from the Nibutani area, producing a traditional garment imbued with his ingenuity and creative spirit.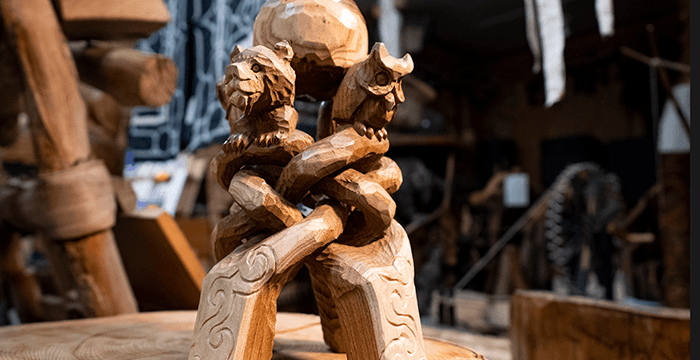 Born from Hikawa's bold technique, this wooden carving is an embodiment of love, drawing in and soothing whoever holds it. Wa (Harmony) is one of his most important works, and features an original modelling technique which is now officially protected as his own design.
Carved from a single piece of wood, this kinetic sculpture features multiple parts which link together, like a puzzle. Once-static wood gives rise to playful movement, its tactile design imploring the viewer not only to look, but to pick up and feel the object in their hand.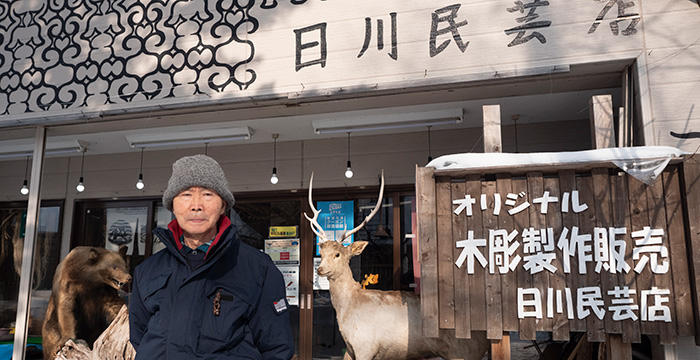 Since becoming an independent practitioner at age 19, in addition to running his folk art shop, Hikawa has mentored many young people, providing guidance as a cultural leader in his community. Now still, Akan's young artisans have much to learn from Hikawa, the carver who, speaking seldom but working with faster hands than anybody, calls himself "not an artist, but a craftsperson."

Hikawa moved to Lake Akan Onsen as a child, and acquired knowledge of Ainu customs, as well as skills such as wood carving, plant collecting and weaving from his parents. In addition to running Hikawa Folk Art Shop, where he produces and sells wood carvings, he has acted as a mentor to many young people, providing guidance as a cultural leader in his community.
◆17th Ainu Cultural Promotion Prize (Individual) Winner

Hikawa Folk Art Shop
4-7-18
Lake Akan Onsen
Akan-cho, Kushiro-shi
Hokkaido Japan