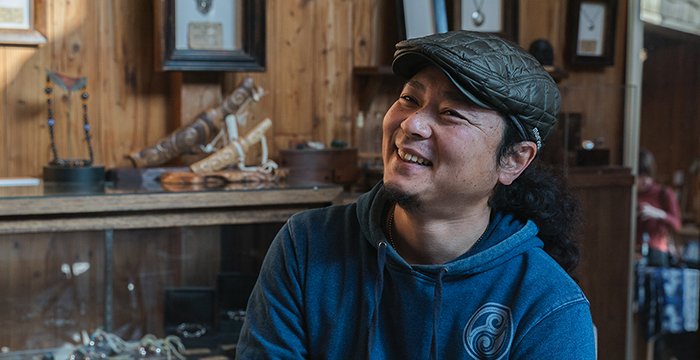 Born in 1975, Mr Shimokura began metal carving at the age of 20.
While training as he worked at a jewelry workshop in Tokyo, he visited Hokkaido on a motorcycle journey. There, he encountered Ainu traditional clothing, and was utterly taken by the fascinating beauty of its patterns. He began to create accessories to suit these Ainu garments.
In 1999, he established his own brand, Ague.
In 2013, he moved to Akanko Onsen, and took over the atelier of his uncle-in-law, the late Nuburi Toko, one of the most renowned Ainu woodcarvers. The atelier became home to his own artistic activities, and in 2019, he opened Atelier 'cafe & gallery KARIP'.
Since 2017, he has continued to create products in collaboration with "fennica", a label of Beams Co., Ltd. which develops items related to daily necessities. In October 2019, he held a sales event in Shinjuku, Tokyo, launching sales of his products under the 'Ainu Crafts' collection. Most of his works sold out during the event, and she continues to sell these products today.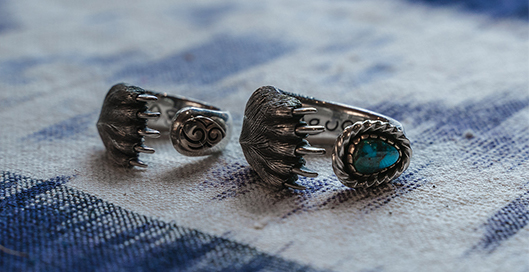 As a professional metal carver, Mr Shimokura is best known for works such as rings themed after a bear's paw and accessories featuring Ainu pattern motifs. These delicate-yet-bold designs leave an unforgettably strong impression at first sight.
Normally, he makes most of his works by casting metal, however, when making flat, thin works such as "shitoki" (large pendants) and "tekunkani" (Ainu traditional bracelets), he begins by preparing the silver, hammering a large ingot into a flat panel. This process is time-consuming and physically taxing, but as he works, each hammer strike relaxes his ego, until he finds his heart at peace. Absorbed in his work, he sometimes does not even realize when he has finished.
One particular artist has had an ongoing influence on Mr Shimokura over his career — Bill Reid, a Haida, one of the indigenous peoples of Canada. With greatest respect for Mr Reid as an artist, he particularly admires how each work seems to have its own will. These works seem to radiate a powerful aura, and have deeply influenced Mr Shimokura's own art.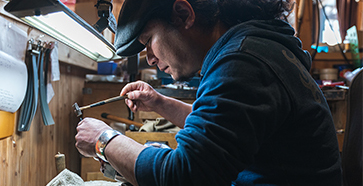 Mr Shimokura's impressions of the Ainu are based on glimpses into ordinary life, and he cherishes the genuine aspects of Ainu culture and principles that have naturally found their way into his daily life. Items used by the Ainu on a daily basis, such as tableware and household goods decorated with patterns, have opened an entirely new and fascinating world to him. He finds the richness of the beauty of use of these objects to be particularly inspiring. The silver jewelry that Mr Shimokura makes were not originally a part of Ainu culture, with the exception of items obtained through trade. Until recently, these precious metals were quite uncommon, and as he crafts each piece, he carefully considers how it will affect the wearer. He seeks to combine metal carving, which was not originally part of traditional Ainu crafts, with inspiration gleaned from genuine Ainu culture, creating entirely new possibilities.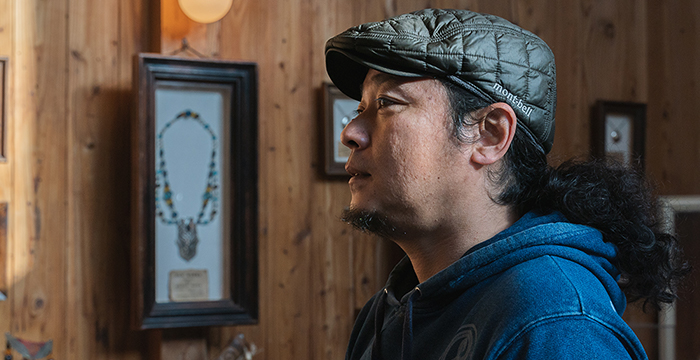 Born 1975
Fascinated by Ainu patterns, he moved to Akanko Onsen in 2013. His atelier, 'cafe & gallery KARIP', is home to his creative endeavors.

'cafe & gallery KARIP'
3-8-15 Akanko Onsen, Akan-cho, Kushiro-shi, Hokkaido
fennica things
Collaborative Products with Beams Co., Ltd.
More