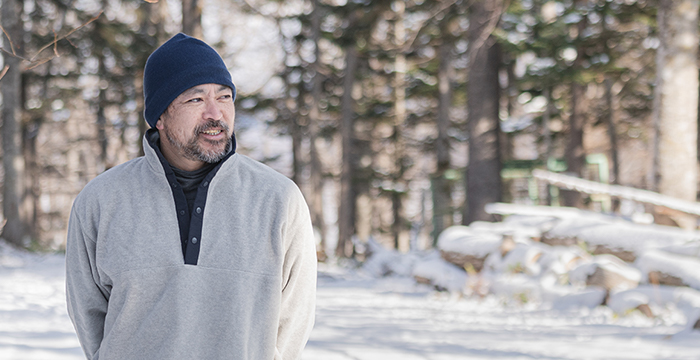 Mr Taira is a professional woodcarver.
He was fond of Hokkaido, and visited time and time again. One year, he visited Akanko Ainu Kotan, where he first encountered wood carving. Intrigued by the art, he later moved to Akanko Onsen to start a part-time job at a store.
While working there, he met his future wife, a local of the Ainu Kotan who worked at a nearby store. He and his wife are now both active as creators of Ainu folk crafts.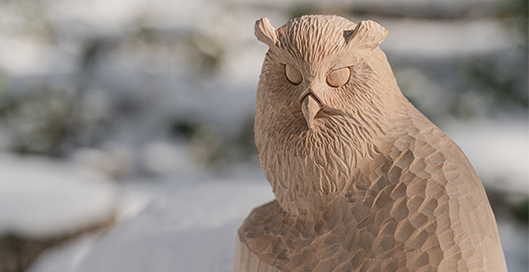 "Begin carving from the eyes, finish carving at the eyes." This is Mr Taira's motto as he carves wooden owls.
The Ainu consider owls to be protective deities. Carving expressions for these revered spirits is profoundly difficult. Each woodcarver produces different expressions, reflecting their own hearts. Mr Taira's owls feature large eyes and rounded, soft overall forms. Within each gentle shape hides a fierce, yet calm and watchful aspect.
Renowned for the mysterious and subtle allure of his works, Mr Taira still seeks to carve faces which inspire no emotion whatsoever. As he strives to perfect his craft, he believes that each person who encounters his owls should be free to create their own interpretation.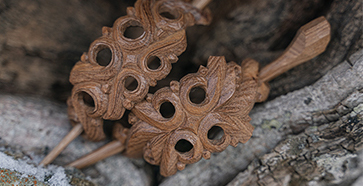 Mr Taira describes Akanko Ainu Kotan as having a relaxed atmosphere and the open-mindedness to accept anyone. The comfort found here is based upon living together with nature.
The Ainu culture find deities among animals and nature, and seeks to live in balance with them. Mr Taira believes that the Ainu culture is part of nature itself, and hopes that his artworks will contribute to the broadening of this beautiful culture.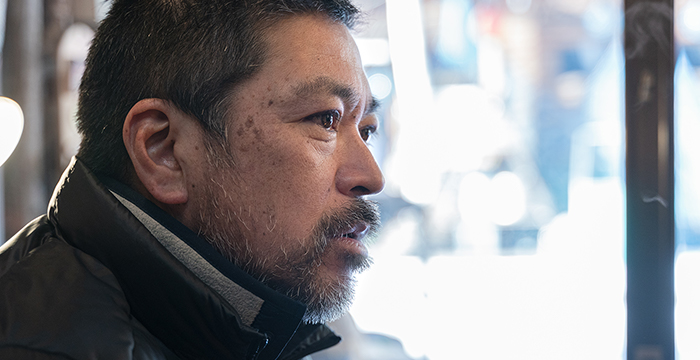 Mr Taira encountered wood carving in Akanko Ainu Kotan, and moved to Akanko Ainu Kotan to pursue his interest. He worked part-time while learning the craft of wood carving, and is now active as a professional woodcarver.

Nitayunkuru
4-7-27, Akanko Onsen, Akan-cho, Kushiro-shi, Hokkaido
Wood Folk Art Mori no Hito
4-3-18 Akanko Onsen, Akan-cho, Kushiro-shi, Hokkaido