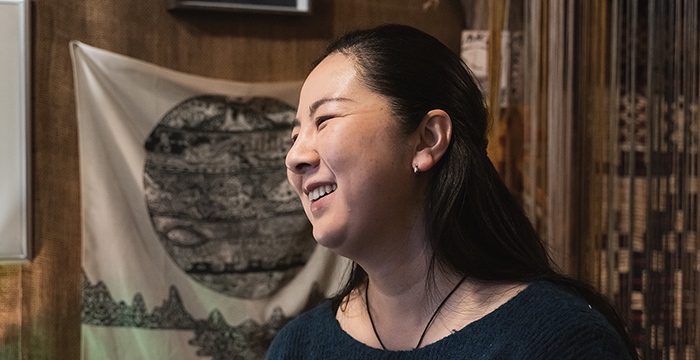 Ms Goukon is a professional creator of Ainu arts and crafts, as well as an Ainu singer.
While running Traditional Ainu Food café Poronno together with her family, Ms Goukon carries on the tradition of craft making which was handed down from elders such as her grandmother. All the while, she is active as a musician, giving live performances of Ainu music together with her elder sister under the name of 'Kapiw & Apappo'. They also collaborate with other musicians. She is also active in a wide range of performances and cultural exchange events related to Ainu culture.
Since 2017, she has continued to create products in collaboration with "fennica", a label of Beams Co., Ltd. which develops items related to daily necessities. In October 2019, she held a sales event in Shinjuku, Tokyo, launching sales of her products under the 'Ainu Crafts' collection. Most of her works sold out during the event, and she continues to sell these products today.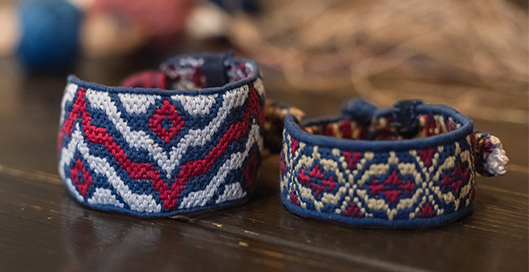 Thread is very important in the production of crafts. Everything starts with the production of thread. The process of producing a thread from materials such as tree bark and nettles is known in the Ainu language as kaika, and remains traditionally a woman's job to this day. The lengthy process begins around June with the stripping of bark from trees, and cleaning away of the rough outer layer, retaining only the inner bark. After much time and effort, thread can finally be produced.
This laborious work might seem somewhat stifling, but Ms Goukon believes that this painstaking process puts her in touch with the Ainu spirit of receiving the bounties of nature, and living together in harmony with nature.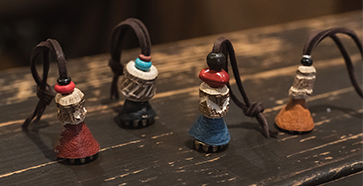 Ms Goukon is best known for her bracelets which adapt the style of emush-at, a traditional Ainu sword-carrying strap. She is very particular about both the design and the materials, and selects different materials for the vertical and horizontal threads. This is to achieve a bracelet that fits even better the longer it is used.
While each bracelet features an Ainu traditional pattern motif, no two are exactly alike, reflecting the creator's hand. Emotion and inspiration shine through to bring uniqueness in each bracelet. Even when Ms Goukon thinks of the design in advance, she lets her heart guide her as she creates each piece.
When Ms Goukon has a recipient in mind, she thinks of the important events in that person's life as she creates each craft. Fondly recalling time spent together with the recipient as she works is greatly rewarding.
Emotion adds depth to each piece. She wishes that each person who receives one of her crafts will think of the Ainu, and hopes that each piece will be worn with knowledge of its Ainu heritage.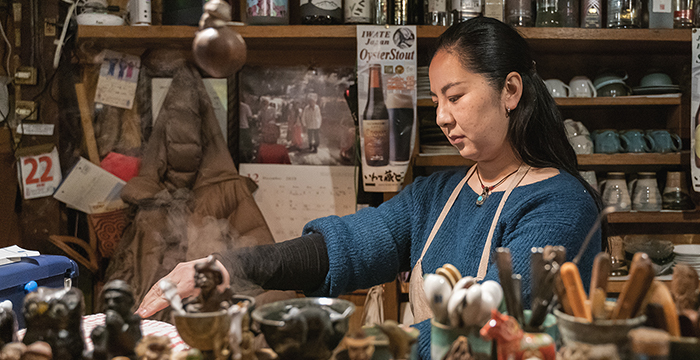 Ms Goukon is deeply versed in Ainu culture. Together with her sister under the name of 'Kapiw & Apappo', she performs together with many other musicians.

Traditional Ainu Food café Poronno
4-7-8 Akanko Onsen, Akan-cho, Kushiro-shi, Hokkaido
fennica things
Collaborative Products with Beams Co., Ltd.
More