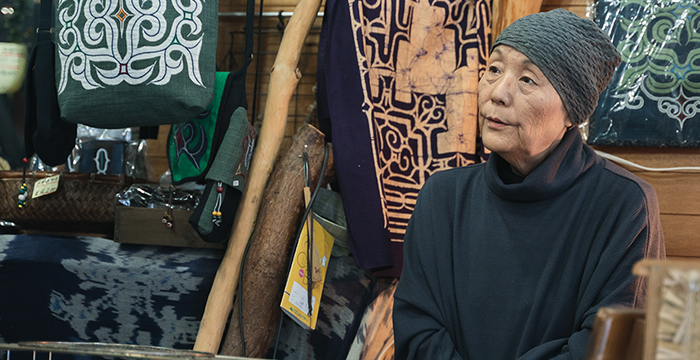 Ms Kobayashi is an embroidery artist.
In 1972, she was married and took the opportunity to move to Akanko Ainu Kotan. As a member of organizations such as the Ainu Association of Akan and the Akan Ainu Culture Preservation Society, she endeavors to promote the passing down of Ainu cultural tradition. While serving as an association board member, she also personally strives to foster successors as an instructor.
Ms Kobayashi participates in performances throughout Japan and overseas, including ancient and traditional Ainu dances, and yukara oral sagas. She has also mastered traditional skills, such as gathering and processing plants, preserving and cooking food, and embroidery patterns and design. She is particularly active in the development of products which feature Ainu patterns. She also operates a store in Ainu Kotan named 'Yukkureppu no Mise', which carries items such as tapestries and clothing.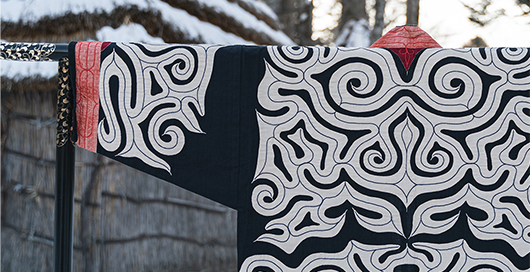 In her efforts to create works which leave a powerful impression, Ms Kobayashi makes the greatest effort to select colors. Like other forms of art, Ainu patterns can take on a number of different expressions depending on color. Ms Kobayashi uses red colors particularly often. Red expresses the power of living things, and presents a cohesive design which can create a strong impression to the people who experience her art.
Ainu pattern embroidery is characterized by fundamental colors such as deep blue and white, and has become colorful over time as colors have been introduced from outside influences. These vibrantly colorful Ainu patterns broadly appeal to many people regardless of age or nationality, and contribute to the gradual expansion of Ainu culture.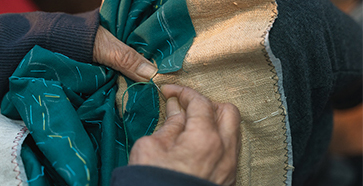 Ms Kobayashi considers 'people' to be a unique aspect of the Ainu culture. The open-mindedness and welcoming attitude of the Ainu contributes to the large numbers of visitors who eventually move to Ainu Kotan. The Ainu receive curious visitors in a natural way, which puts hearts at ease and creates an inviting community.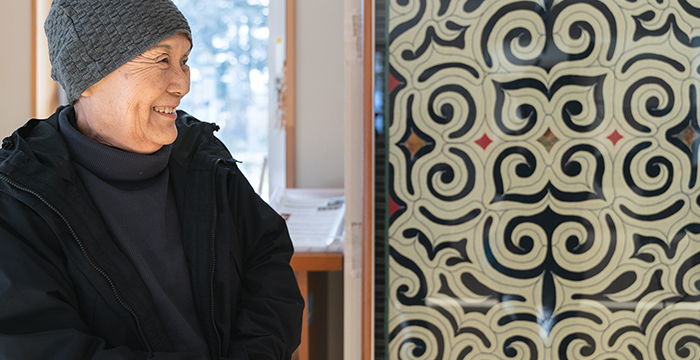 Ms Kobayashi moved to Akanko Ainu Kotan on the occasion of her wedding, and devotes herself to promoting the handing down of Ainu cultural traditions. As a professional embroiderer, she has created many works. In 2015, she was certified as a distinguished master of crafts by the Ainu Association of Hokkaido.
◆22nd Ainu Culture Encouragement Prize (2018)

Yukkureppu no Mise
4-7-17 Akanko Onsen, Akan-cho, Kushiro-Shi